5 strange destinations in India that will run a chill down your spine!
The art of storytelling has been mastered by Indians through the centuries. The long and rich history of India is filled with legends and myths of Kings and Gods! Almost every destination in India has a wonderful and unique story behind it blurring the lines between fact and fiction. While technology and research has made this divide easier, there are still strange places in India that defy logic! When you visit these destinations the mystery envelopes you and will certainly leave you baffled and amazed. Here are five such strange and mysterious destination in India that you must visit –
Skeleton Lake of Roopkund, Uttarakhand
At a chilling altitude of 16,500 ft lies a glacial lake that can give you the goose bumps! The bottom of the lake and the surroundings are littered with skeletal remains of humans. This picturesque lake set amidst high mountains is a popular trekking spot and is called as the Roopkund Lake. Through most of the year the lake is frozen, it's only in the summer months when the lake unfreezes you can sight these grotesque remains. Latest DNA data and research offers a theory that the skeletons belong to a 9th century Indian tribe who were killed by hailstorms. More than 200 skeletons were found on the lake. Imagine the horror of being killed by hail the size of tennis balls!
How to reach – Roopkund Lake is accessible only on foot. The nearest motorable road is at Wan Village which is about 550 KM from Delhi. From Wan the trek is about 40 KM and takes about 6 days to finish the entire circuit.
Where to Stay – There are no camping huts on the trail and you need to carry your own tents. Else, you can trek with a guide who will arrange everything for you.
Ghosts of Bhangarh Fort, Rajasthan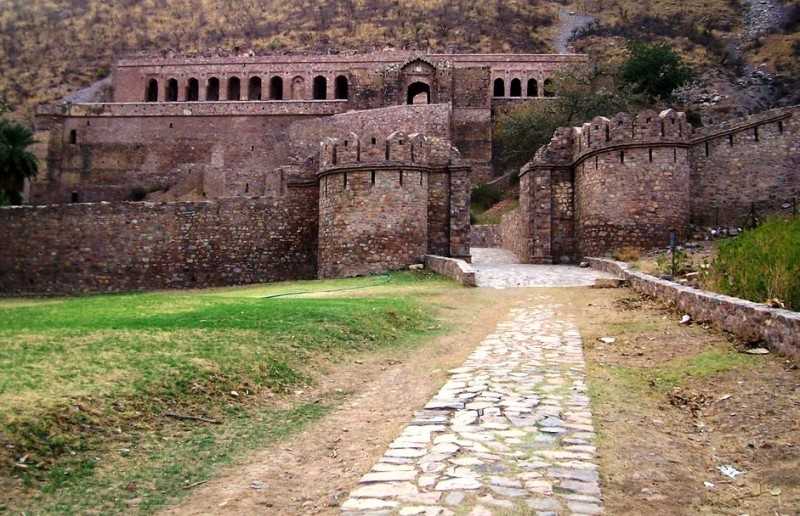 The wrath of saints, ethereal princesses and scheming wizards, the legends of Bhangarh Fort have all the elements for a good mystery. Often touted as India's most haunted place Bhangarh Fort is an abandoned fort in Rajasthan. The stone fort lies in ruins today but has all the features of a once flourishing settlement. It has temples, palaces, havelis and houses within the fort.
The fort was built in 1613 by Man Singh I however there is no evidence of why the fort was abandoned. There are two popular stories behind the mystery; the first involves the ire of Saint Guru Balu Nath who cursed the king because his palace cast a shadow on his residence. The second involves the story of unrequited love for Princess Ratnavati by a wizard named Singhia. While there is no proof, tourist love to vouch for the presence of paranormal activity in the fort!
How to reach – You can drive from Delhi for a distance of about 300 KM to reach Bhangarh. The other option is to take a train to Alwar and then a taxi to Bhangarh. You can combine a visit to Bhangarh with a visit to Jaipur, Sariska National Park or Neemrana.
Where to Stay – You can stay either in Jaipur or Alwar which are both about 80KM away from Bhangarh. Jaipur has several hostels that suit the needs of backpackers.
Myths of Ramayana at Rameswaram and Dhanushkodi, Tamil Nadu
Ramayana is perhaps the most fascinating mythological story that has captivated billions of hearts and minds. Visiting Rameswaram and Dhanushkodi will surely make you wonder if Ramayana was a myth after all! This southernmost part of India is credited with being the location of the Ram Setu or the bridge which Rama used to cross over from India to Sri Lanka. At Rameswaram you will find stones that float on water, scientists say it's because the stone is less dense than water but watching it in action surely makes you wonder!
The abandoned town of Dhanushkodi is an interesting experience. Named as Dhanushkodi it means 'At the end of the arrow' referring to the spot where Rama plunged his arrow on the Ram Setu. The town was declared a ghost town after 1964 when a cyclone killed hundreds of people. Today you can see the ruins of the settlement and surely feel the creeps! It also has the smallest land border in the world between India and Sri Lanka at only 45 metres on a shoal in Palk Strait.
Don't miss out on visiting the Rameswaram temple and enjoy the train ride on Pamban Bridge, India's first and one of the longest sea bridges.
How to Reach – The nearest airport to reach Rameswaram is from Madurai (163KM) while Rameswaram has a railway station that is accessible from Chennai and other major towns.
Where to Stay – You can stay in Rameswaram in the many decent budget hotels. Although it has several foreign tourists there is no backpacking culture.
Curse of Talakadu, Karnataka
Palace intrigue and political plotting ending in a curse is a script that rivals even the most twisted plots of Game of Thrones. This is the story of Talakadu which has defined the course of history for the famous kings of Mysore. The story goes that in 1610, Queen Alamelamma wife of the then King of Srirangapattanam left the charge of the Kingdom to Raja Wodeyar to visit her ailing husband at Talakadu. Recognizing the opportunity in this he decided to take the Kingdom for himself and go after the queen for her jewels.
The Queen was a feisty woman who not only threw her jewels in the river Cauvery at Talakad but also jumped into it herself before cursing the king with the words – ' Let Talakad become sand, let Malangi become a whirpool and let the Mysore Rajas fail to beget heirs'. And today the entire town of Talakadu is under sand! It's inexplicable because the river Cauvery runs its course just beside the town. There are whirlpools at Malangi and even today the entire line of Wodeyars fails to get heirs. In fact, the recent Wodeyar King, Yaduveer is adopted!
How to Reach – Talakadu is about 135 KM away from Bangalore and you can make a day trip to visit this amazing destination. Make a visit in the monsoon to truly see the desert unaffected by the rains!
Where to Stay You can stay at AAO Hostels in Bangalore
Snakes of Shetpal, Maharashtra
snake-worship-in-shetpal-10-best-offbeat-destinations-for-incredible-india-travel.jpg
Slithering, creeping snakes can make the skin crawl of even the strongest of people! While Snakes are not dangerous unless provoked, media and myths have certainly done their part in creating fear. But all this fear seems to have escaped the residents of Shetpal who exclusively make spaces for snakes in their homes called Devasthans!
Shetpal is a tiny hamlet near Solapur in Maharashtra where snakes are revered. Here you can find snakes everywhere, in homes, in schools, just slithering away! And surprisingly there have been no incidents of snake bite in the village despite the high number of snakes. This is a phenomenon where you just got to visit and see for yourself.
How to Reach – Shetpal is about 70KM away from Solapur which has an airport as well as railway station. You can visit this place when you are visiting Lonavala or Pune.
Where to Stay – Solapur has many budget hotels that are perfect for a one night's stay.
Are there any other mysterious and strange destinations in India that you have visited? Let us know in comments below!