Ten Bizarre Temples in India that will amaze you
India is a place where spirituality, superstition and religion are a way of life. Places of worship of all major religions like Hinduism, Christianity, Islam, Sikkhism, Buddhism and many other sects are found across the country. Many of these temples are works of art and architecture and are protected monuments. And yet there are some bizarre temples which make you simply wonder, WHY?! Here is the Top Ten list of Bizarre Temples in India –
Bullet Temple, Pali, Rajasthan
This temple and the legend behind it are surely to leave you gaping with surprise. The deity at the temple is a Royal Enfield Bullet Motorcycle! The story goes that the bike belongs to Om Singh Rathore now known to all an Om Banna. He suffered an accident in a ditch on the highway and the police took away the motorbike to the police station.
It is said that the motorbike returned to the same ditch at dawn! This recurred every day despite leaving the bike in chains. Now the bike is enshrined where Om died and is worshipped by locals and highway travelers who believe it will protect them on the roads.
Combine this trip with – A backpacking trip across Jodhpur, Udaipur and Chittorgarh
How to reach – The temple is 55 KM away from Jodhpur which has a railway station and airport
Where to stay – Stops Jodhpur and Hostelavie are great hostels to stay in Jodhpur. There is a good backpacking culture in Rajasthan.
Aeroplane Gurudwara, Jalandhar, Punjab
Getting a visa approved is a big milestone and Indians go to great lengths to appease the gods to make it happen. But the unique tradition at this gurudwara takes the worship to a whole new level! The Shaheed Baba Nihal Singh Gurudwara in a hamlet called Talhan near Jalandhar is thronged by devotees who seek a visa. And what do they offer? A toy airplane each! It is not known how or when the custom started but every day believers come to the gurudwara with toy aeroplanes in hope of an approved visa.
Combine this trip with – A trip to Amritsar for some lip smacking paranthas and to see the Border Ceremony at the Pakistan border at Wagah.
How to Reach – Talhan is about 12 KM away from Jalandhar which has a railway station. The nearest airport is Amritsar
Where to Stay – You can stay at Amritsar at Jugaadu's Hostel and Wow Backpackers Hostel and drive down to the temple
Dog Temple, Channapatna, Karnataka
You thought you loved dogs? Well this temple is sure to surprise you! A temple exclusively dedicated to the worship of Dogs is located in the Agrahara Valagerehalli Village near Sulleri in Channapatna. The legend goes that the dog temple was built for the protection of the local deity Kempamma who has a temple dedicated to her just beside the dog temple. While it is not a very popular temple, the worship or puja is done three times a week and a major annual festival is conducted where village dogs are fed!
Combine this trip with – A visit to a crafts workshop in Channapatna to see the manufacture of famous Channapatna toys.
How to Reach – Channapatna is about 70KM away from Bangalore which is a major railway station and airport
Where to Stay – You can stay at AAO Hostels in Bangalore.
Karni Mata Temple, Deshnoke, Rajasthan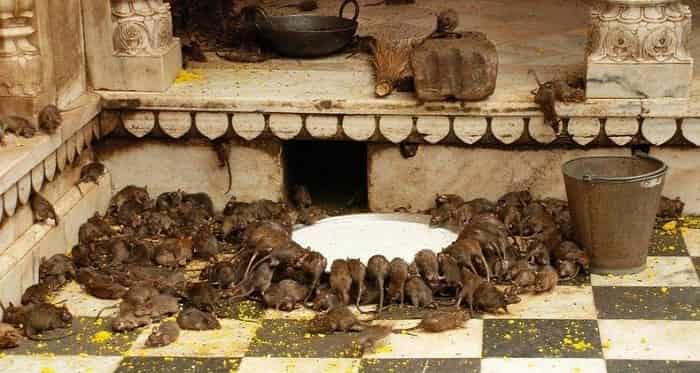 Rats' scurrying away at your feet is the stuff of nightmares, but not at this temple! Here rats roam free across the temple and are even fed within the temple premises itself. There are two versions to the legend of Karni Mata. One speaks of an event where the Karni Mata's army deserted a battle and ran to the village. She spared their life but cursed them to live forever as rats.
The other story is that one of Karni Mata's stepsons Laxman drowns into a lake. She calls upon Yama to restore him, he agrees to it but with the condition that he and his heirs will turn into rats! It is quite a sight to see the rats move around freely and visitors eat the same food as nibbled by the rats.
Combine this trip with – A backpacking trip to Bikaner, Jodhpur and Jaisalmer
How to Reach – Deshnoke is about 30KM away from Bikaner which has a railway station. The nearest airport is at Jodhpur
Where to Stay – Stay at the Vinayak Guest House to experience authentic Rajasthani hospitality.
Chinese Kali Temple, Kolkata, West Bengal
Goddess Kali is synonymous with Kolkata, the fervor and magic of worship during Pujo is unparalleled. Among the hundreds of Kali temples in the city stands out this unique temple called the Chinese Kali Temple. The Chinese community in Kolkata worships at the temple and offers interesting 'prasad' or edible offerings like Fried Rice and Noodles. The worship started when a young Chinese boy got sick but was cured after prayers at the temple.
Combine this trip with – A sightseeing trip across Kolkata and a quick escape to the Sundarbans National Park
How to Reach – The temple is situated in central Kolkata and can be reached via taxi from anywhere
Where to Stay – Gala Time Hostel is a great place to stay for backpackers.
Bharat Mata Temple, Varanasi
This temple takes Patriotism seriously! The temple dedicated to India reveres it in the colloquial name 'Bharat Mata'. There is no deity as such but a large map of undivided India, which is essentially a marble installation. It was constructed way back in 1936 by freedom fighter Babu Shiv Prasad Gupta and was inaugurated by Mahatma Gandhi.
Combine this trip with – An extended stay in Varanasi, the city is one of the most ancient cities in the world and you can get a glimpse of the traditions and culture of India on this trip
How to Reach – The temple is in Varanasi itself and can be easily accessed from anywhere
Where to Stay – Varanasi has a thriving backpacking culture. Stops Varanasi and Bunkedup are two great hostels to stay
Ravana Temple, Ravangram, Madhya Pradesh
If you are familiar with Hindu mythology you know for certain that Ravana is the nemesis of Lord Rama. It might then surely surprise you that there is a temple in India which worships Ravana! This temple in Madhya Pradesh is among the rare temples of Ravana in India. Within the temple premises lies an ancient statue of Ravana and he is worshipped by the local Brahmins who believe they are descendants of Ravana.
During Dussehra, Ten Day festival celebrating Lord Rama, they chant slogans like 'Jai Lankesh'. They believe that Ravana was a pious Brahmin and his blessings protect the village.
Combine this trip with – A backpacking trip to Bhopal and Bhimbetka to see ancient cave paintings dating back millennia!
How to Reach – The Ravan Village is located in Natheran District about 45KM away from Vidisha. You can reach Vidisha from Bhopal (60KM) which has a railway station and airport
Where to Stay – You can stay in Bhopal, however there are no hostels in Bhopal but there is the option of decent budget hotels.
Amitabh Bachchan Temple, Kolkata,West Bengal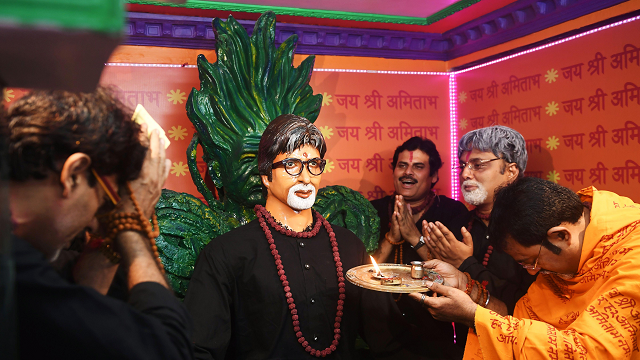 A billion Indians know who Amitabh Bachchan is, but for the uninitiated Amitabh is an Actor!! Yes, Indians take their hero worship literally. Built by a super fan this temple is Kolkata worships Amitabh as any other human god. There is a set of rules and Pujas that are conducted in the temple in his honor. You can even see signs like 'Jai Amitabh','Har Har Amitabh' all around the temple. And to imagine all this is for a living actor who still continues to make movies and enthrall his fans!
Combine this trip with – A tour around Kolkata and if you wish to extend to the hills of Darjeeling
How to Reach – The temple is located in Kolkata which is a major city and has an international airport and railway station
Where to Stay – Gala Time Hostel is a great place to stay for backpackers
Kala Bhairava Temple, Ujjain, Madhya Pradesh
Several religions and especially Hinduism shun alcohol as impure or do not actively include it in the rituals of worship. However, in this unique temple in India the presiding deity is offered alcohol as an offering! Kala Bhairava is a form of Shiva and according to ancient tantric tradition is usually offered the panchakarma – madya (alcohol), maansa (meat), meena (fish), mudra (parched grain) and maithuna (Sexual intercourse). Today only madya or alcohol is offered to the deity.
Combine this trip with – A trip across Ujjain and to nearby Nagpur city
How to Reach – The temple is located within the Ujjain city and easy accessible. Ujjain has a railway station and the nearest airport is at Indore about 55Km away.
Where to Stay – Indore and Ujjain do not have an active backpacking culture, however there are several budget hotels you can stay at.
Mehandipur Balaji Temple, Dausa, Rajasthan
Demons and evil spirits have captivated the human mind for ages, the belief that spirits can be exorcised is prevalent across the world. In this temple in Rajasthan, the spirits are exorcised only to be locked away forever! It is a temple dedicated to the god Hanuman and is known for ritualistic healing. The temple is a scary place with people writhing and wailing in agony, some of them even known to beat their heads on the wall. The locals have their own testimonies for the effect of the temple, although it is a weird temple for sure!
Combine this trip with – A trip to Jaipur and to see the Tiger at Ranthambore National Park in Sawai Madhopur.
How to Reach- It is 112 KM away from Jaipur which is a railway station and has an airport as well
Where to Stay – The Moustache and Roadhouse Hostel are great hostels to stay in Jaipur
Have you been to any of these interesting temples in India? Do let us know!